Welcome to Ocyan's Newsletter. Through this series of publications we'll be notifying you for use cases around the practical use of enterprise blockchain and P2P Networks on production, and also any important update for Ocyan.
To Subscribe to our newsletter click here.
You are invited to Hyperledger in Production

Together with Wayra, Hyperledger, Telefonica and Jefferson Frank we are inviting you to a networking event about the use cases of Blockchain on an Enterprise Production environment. #PracticalBlockchain
Gabriele Cacciola - CTO & Co-founder of Ocyan
Alfonso de la Rocha - Blockchain Technological Expert at Telefonica
Simon Stone - Lead engineer, IBM Blockchain Platform developer experience
The event is on the 10th of March and is taking place at Wayra's HQ in piccadilly circus. To book your place at the event click here.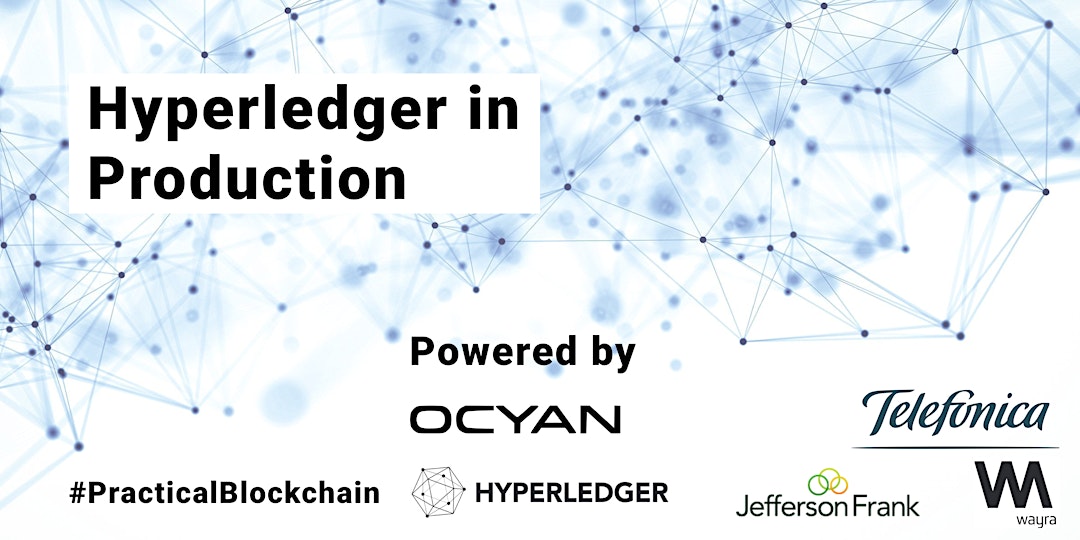 Telefonica is working with Ocyan for TrustOS

The spanish telecoms giant Telefónica entered a commercial collaboration with Ocyan. With this synergy, Ocyan, is providing the infrastructure layer for Telefónica's TrustOS. Ocyan's solution is a "cloud operating system" that is used to run a blockchain network and is also middleware.

The first commercial project that is based on TrustOS and this collaboration is with the Association of Science and Technology Parks of Spain (APTE). Under the agreement, APTE and Telefonica will trial blockchain solutions for three months. The goal is to improve services offered by the parks to the companies.

Read more here >>
Ocyan's Knowledge Base

In Ocyan we are devoted to accelerate the digital transformation of traditional industries with decentralised technologies, by providing our managed technology and in addition to spread the understanding of practical blockchain in the enterprise. For this reason you might be interested on the following articles:
Hyperledger Fabric v1.4.4

Hyperledger Fabric has arguably been the most matured Blockchain/DLT solution currently in the market. The Fabric developers have been working with a focus on stability and production operations. As the new version v1.4.4 got released, it brought important updates in the consensus algorithm.

Ocyan is one of the first managed solutions for Hyperledgerd Fabric that is able to support Hyperledger Fabric v1.4.4 with RAFT configuration in a Production environment, no matter the underlying cloud or datacentre infrastructure.

Read more about Hyperledger Fabric Raft >>
Pegasys and Ocyan signed an MoU to support Hyperledger Besu

Ocyan and Pegasys (a company incubated by Conensys) formed a synergy to accelerate the adoption of hyperledger Besu by enterprises that require a managed deployment of Besu on-prem (their cloud or datacentre). With Ocyan offering a "Cloud Operating System" that can deploy, manage and connect the legacy infrastructure with Hyperledger Besu in a managed SLA.

Twitter announcement >>
LimeChain & Ocyan Partner to deliver fully managed Practical Blockchain Solutions to the Enterprise

Joining forces, the two companies will offer a complete solution for enterprise blockchain projects that scale and integrate with legacy, back-office and cloud services. This includes all the required infrastructure, analytics, and integrations while surpassing demands of SLA and costs.
"We are delighted to work alongside Ocyan, building upon a platform with enormous potential to help support its technology integration into the Enterprise. Together with Ocyan, our mission is to provide best in class solutions and enable Enterprise to easily integrate Blockchain and DLT into their businesses, providing sustainable, future-proof products with Blockchain as an underlying technology." Marc Smith – Director, LimeChain UK
Read more here >>
QVentures & Wayra invested in Ocyan

London's QVentures lead the funding round that got completed in December 2019, with Wayra (part of Telefonica's innovation) joining as an investor too.

QVentures Partner, Brian Hatton, said:
I am very excited to be supporting and joining the board of such a fast-moving FinTech business led by two amazing entrepreneurs.
Where you have seen us
---
About Ocyan

Ocyan has been actively engaged with use cases from Tier-1 to Tier-3 organisations within the FinTech, Logistics, Energy, O&G and Telecom industries who have been trying to scale, deploy and manage blockchain applications within their enterprise environment. Our On-premise "Cloud Operating System" provides features such as the formation and management of trusted and secure blockchain consortia, back-office and legacy integrations with blockchain and P2P networks, and serverless data pipeline for any blockchain network.

Find out more about our services and how we can help here. Or follow us on twitter or LinkedIn to stay up-to-date.